This post brought to you by
éclos Skin Care
. All opinions are 100% mine.
Over the years, I think I've tried every affordable skin care product for my sensitive, combination skin. Although none of them were quite right, I'd settled on a hypoallergenic moisturizing soap. It was simple and didn't irritate my skin, but I knew I needed more--at least a moisturizer, especially as I got older.
When I read about
éclos Skin Care
, I was intrigued. It's different from other products because it combines plant stem cells in combination with plant extracts, vitamins, and anti-oxidants to create a line of all-natural skin-care products. According to clinical results reported by the company, 100% of women in the study saw a reduction in wrinkle appearance within two weeks. That's a pretty remarkable statistic!
I tried three of the products: Face Serum, Eye Cream, and Regenerative Cream. I'll tell you a bit about each one.
Cellular Activator Face Serum is intended to regenerate skin cells, rehabilitate aging skin, and resist further damage.
Restorative Eye Cream is recommended to slow signs of aging, firm delicate skin, and reduce fine lines.
Moisture Therapy Regenerative Cream is to awaken cell renewal, brighten dull skin, and reduce lines and wrinkles.
The Face Serum is a nearly weightless, almost translucent fluid that glides smoothly over skin. The Eye Cream is thicker and richer. Both of these products come in pump bottles. After I'd inadvertently left the bottles upside-down, I had some difficulty priming the pump of the Face Serum; it did work after I pressed the dispenser a number of times. I didn't have the same issue with the Eye Cream, maybe because it's thick enough not to flow.
The Regenerative Cream, which comes in a jar, is the richest of these three products. Even so, it absorbs quickly and leaves no sticky residue.
All three products have a pleasant fragrance that I would describe as herbal. My husband is picky about the scent of anything I put on my skin--he especially doesn't like strong floral scents--and he didn't complain at all about the
éclos Skin Care
products.
I think most of my wrinkles are from being perpetually tired. That said, here are my Before and After pictures, as unflattering as they are: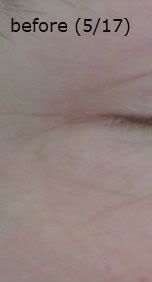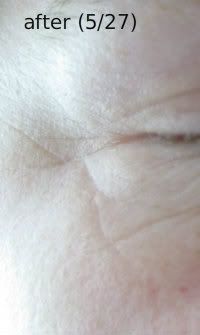 I don't see much change after these ten days, but I still like the
éclos Skin Care
line. I like the fragrance, I like the feel, and I like that it didn't irritate my skin at all.
Would you like to try it for yourself? One lucky reader will win the same eclos Anti-Aging Skin Care Starter Kit that I received. The kit contains the following:
Facial Cleanser Skin Prep
Cellular Activator Face Serum
Instant Radiance Facial Scrub
Restorative Eye Cream
Moisture Therapy Regenerative Cream
Skin Renewal Clay Mask
Terry Cloth Head Band
This giveaway is closed.
Here's how to enter:
Leave a comment and tell me which product in this kit you are most excited to try.
Be sure to leave a way for me to contact you. Limit 1 entry
per person.
More details:
Open to residents of USA, age 18 or older. Giveaway ends 6/15/12 at noon (Eastern time). Winner will be chosen by the random number generator at Random.org and will be notified by email. Winner must claim prize within 48 hours, or another winner will be chosen. Void where prohibited. éclos Skin Care, through SocialSpark, is providing the giveaway prize.
Disclosure:
I received the Starter Kit, at no cost to me, for review purposes. I was not required to write a positive review, and all opinions in this post are my own. I have received no compensation in any form for hosting this giveaway.