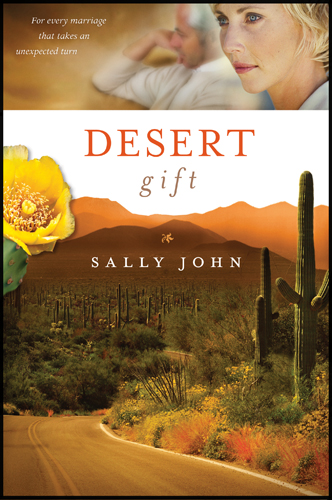 Jillian Galloway is a nationally known marriage expert, about to board a plane for a whirlwind promotional tour, when her husband Jack bluntly announces that he wants a divorce. As she struggles through the days and weeks, she tries to figure out what went wrong. At home, Jack is trying to sort out his own life. Meanwhile, their son is making major life decisions of his own, further complicating the family's situation.
Very early in
Desert Gift
, I peeked to see how it turned out. Even though I knew the ending, I still wanted to read the entire book to see how author Sally John brought the story from start to finish. And even though I knew the ending, I enjoyed the story just as much as if I hadn't peeked.
The characters, including Jack and Jillian, are realistically imperfect people. The supporting characters--their family members, coworkers, and friends--are not as developed, but are also imperfect.
Most of the story takes place while Jillian and Jack are apart, he in Chicago and she on the West coast. As someone who always wants to sit down and resolve problems immediately, I don't know if I would be able to handle that! However, it makes for an interesting, bittersweet, and sentimental storyline.
Desert Gift
is not my favorite book of all time, but I don't regret a moment of the time I spent reading it.
Links for more information:
I'm linking up!
Disclosure:
I received a copy of this book, at no cost to me, for review purposes. Thanks to Tyndale House Publishers and the Tyndale Blog Network for the opportunity! The Amazon.com ad box which precedes this disclosure contains affiliate links: if you click through my Amazon.com link and complete a purchase, I will receive a small commission. Thank you for supporting my blog!