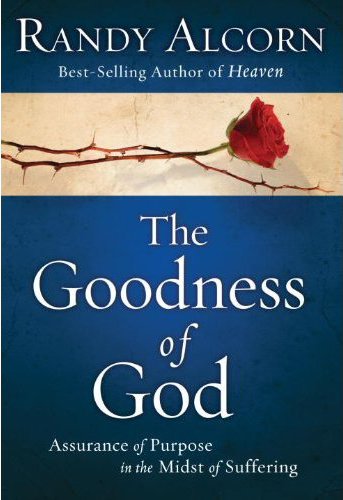 If God is all-powerful and loving, how can He allow so much suffering in the world?
Most of us have probably heard that question. Author Randy Alcorn addresses it, in a logical fashion, in
The Goodness of God: Assurance of Purpose in the Midst of Suffering
.
Chapter by chapter, he examines the origins of and explanations for evil and suffering; differing worldviews; why God allows evil and delays justice; a biblical view of health and wealth; and God's eternal solution to evil and suffering. Although most of the chapters include assurance for those who are suffering, the final two chapters--Wrestling with the Reasons for Our Suffering
and
Finding Perspective in Our Suffering--specifically address those points.
Alcorn works through his points systematically but in an engaging tone. He uses Scripture to back up his words and includes a generous number of anecdotes and quotations. This illustration is one that I especially liked:
Ever been to a football game at half time when the band forms words or pictures in the middle of the field? They look great from up in the stands. But what if you're on the sidelines when the band forms its symbols? You can't see them. What the band's doing appears pointless. We see life from the sidelines. God sees it from above, in the grandstands. The Bible invites us to trust God that one day, when we can see from Heaven's perspective, many things will make sense that don't appear to when we're on the sidelines.

(page 53)
In the first few chapters, I wasn't sure that
The Goodness of God
was going to provide anything new. After those few chapters, however, I was increasingly drawn into the book. Overall, I liked
The Goodness of God
very much. I agree with the author's perspective, and I like his logical yet not harsh approach.
I'd like to share a few more passages that stood out for me (I didn't notice the nearly parallel structure of the first two until I placed them side by side):
Whenever we're tempted to think God has messed up our nice world by interjecting evil and suffering into it, let's remember that in fact we messed up God's perfect world by interjecting evil and suffering.

(page 18)

Whenever you feel tempted in your suffering to ask God, "Why are you doing this to me?" look at the Cross and ask, "Why did you do that for me?"

(page 47)

Behind almost every human expression of the problem of evil stands the assumption that somehow we know what God should do.

(page 54)
Links for more information:
If you like this review, please consider rating it! Thank you!
Disclosure:
I received a copy of this book, at no cost to me, for review purposes. Thanks to
WaterBrook Multnomah Publishing
and
Blogging for Books
for the opportunity! This post contains affiliate links: If you click through my Amazon.com link and complete a purchase, I will receive a small commission. Thanks for supporting my reading habit!