The end of the Thanksgiving-Christmas-New Year's Day season is an odd mixture of "I'm relieved that it's over" and "It's over already?" for me. I enjoyed the extra time with my family during my bloggy break, but I'm also glad to be back.
Christmas was good! We visited with family in the area and attended a beautiful candlelight service on Christmas Eve. I'd been feeling stressed and depressed, and the service really helped me refocus on why we celebrate. And although gifts aren't the main part of Christmas, we did exchange them. DH gave me a Bible cover and a box of Godiva chocolates; Mooseman gave me a set of silicone cupcake baking cups and a stack of sticky notes with a "Luv2Blog" design. They both got everything they asked for, too, including an
"Eat. Sleep. Code." t-shirt
for Mooseman.
I already told you about
the snow
, but here's one more picture (taken about halfway through the storm). This is one of the dwarf Alberta spruce trees that I've mentioned before:
I finally got to make the double-layer pumpkin pie that I'd been craving, and it was just as good as I'd remembered.
On the day it snowed, I cooked bacon in a frying pan. Afterward I decided to make some biscuits (from refrigerated dough), and I baked them in the thin layer of bacon grease in the same pan. They were good, but probably didn't need the added salt and fat!
I also tried a new recipe for breakfast--Caramel Banana French Toast--but you'll have to come back tomorrow to see how it turned out! :)
I've been reading a book called
@stickyJesus
. It's not a review book--I purchased this one--but I'll tell you more about it after I've finished. So far I'm liking it a lot! You can read more about it at the
@stickyJesus website
.
Recently I've heard about two blog projects that sounded interesting. The first is Blog Dare, which provides a daily prompt along with a challenge to post every day. I briefly thought about participating, but I know it would make me feel pressured to write--which would take the fun out of it for me. If you'd like to join in, you can get all the details
here
.
Alicia has posted a year-end Project Smile list, and she's keeping the linky open for a few more days. If you'd like to link up, you can find the information in her
Ending the Year with Some SMILES
post.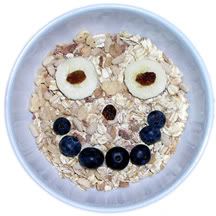 That's about all the catching up I have.
Happy New Year!
Disclosure:
The book title contains an affiliate link: if you click through my Amazon.com link and complete a purchase, I will receive a small commission. Thanks for supporting my reading habit!