Welcome to this edition of
Retro Runway
, the blog party where you can show off, laugh at, or groan over the styles that we used to wear. Share your photos, stories, or both ... whatever you like ... and link up here!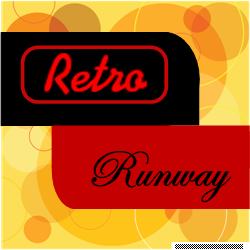 At the first
Retro Runway blog party
, I shared some photos from high school. For this time I brought out some photos that are a bit more recent. Care to guess which of these boxes held my old photos?
I was guessing that it would be the one at the bottom, but I found the pictures in the white box. These are all photos of photos, so try to overlook the blurriness and/or glare. I live in jeans and t-shirts (no cutting-edge fashion here LOL), but it was fun to see the evolution of my hairstyles.
These pictures are from 1987. I never did get to thank the photographer for not suggesting that I adjust my blouse
or
fix my hair!
This one was from about 1990. I loved the ease of this short permed hairstyle, but it probably wasn't the most flattering style. And this sweater ... who suggested that I choose one with horizontal stripes?
I am not sure, but I think this is later ... early 1990s? I think this is after the perm was growing out. I remember that this top was one of my favorites because it was so comfortable! But again with the horizontal stripes!
When you're finished laughing at my photos, I hope you'll join in and link up your own Retro Runway post! If you decide to join the party, the rules are simple:
Link up to your party post, not your blog's main page.
Include a link to this post or include the party button (at the top of my left sidebar) in your post. Or, even better, grab the Blog Hop code below and add it to your post.
It's a party! Visit other participants and have fun!
This linky will be open until Friday night (midnight, Eastern time).