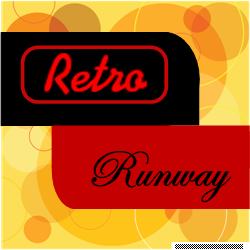 Welcome to
Retro Runway
, the blog party where you can show off, laugh at, or groan over the styles that we used to wear. Share your photos, stories, or both ... whatever you like ... and link up here!
Where I went to high school, we didn't just have 1980s big hair: we had
New Jersey
big hair. When I flip through my yearbook, I can't help but notice that almost all of the girls (and some of the guys) have the same hairstyle. This is a yearbook photo of one of the prettiest girls in my graduating class:
What would we have done without curling irons and hairspray??
As I recall, clothing involved a lot of layering: a blouse over a knit top or (like this) a velour top over a blouse. Of course, that might have had something to do with the fact that our school building was freezing cold for most of the winter. Yes, that's me with my Levi's cords and "growing out my wings" hair. I think I still used a curling iron to make the hair flip away from my face, but I'd given up the Farrah Fawcett hairstyle. (I was
not
smiling in this photo, but that's a story for another time.)
Let's jump ahead a few years. I am keeping these in my closet because I just
know
they'll be back in style soon:
Finally, I was a fan of the oversized top/leggings/slouch socks look because it was so comfortable. Not, obviously, because I need a way to make my legs look even shorter than they actually are:
Now it's your turn! I hope you'll join in and link up your own Retro Runway post! If you decide the join the party, the rules are simple:
Link up to your party post, not your blog's main page.
Include a link to this post or include the party button (below) in your post. Or, even better, grab the Blog Hop code below and add it to your post.
It's a party! Visit other participants and have fun!