A few days ago Lisa posted
a few pictures of herself
--big hair and all--from the 80s. It was fun to see, and started me thinking about some of the fashion trends that have come and gone in the past few decades.
Anybody remember these fashion statements? (Raise your hand if you sprained an ankle while wearing them!)
How about these?
Parachute pants, anyone?
Who could forget the leisure suit??
With all of that in mind, I thought it might be fun to have a
Retro Runway Blog Party
! Bring out your old photos or drag those parachute pants out of the closet, and show us what you've got. Share your photos, stories, or both ... whatever you like. Blog it by
Thursday, October 28
, and link up to the party post, which I will post by 5:00AM (Eastern) on Thursday. If you decide the join the party, the rules are simple:
Link up to your party post, not your blog's main page.
Include a link to my party post or include the party button (below) in your post.
It's a party! Visit other participants and have fun!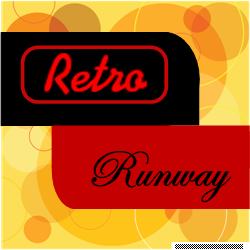 All images in this post are public domain, from Wikimedia Commons.