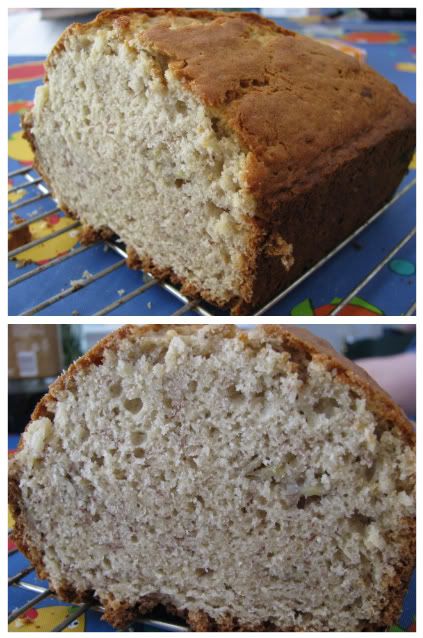 If you've ever had a
sourdough starter
, you know that it has to be maintained--replenished and either used or discarded--every week or so. I've been making a
sourdough coffee cake
, but last week I was looking for something different ... preferably a recipe that would use some overripe bananas.
A quick web search yielded this recipe for
sourdough banana bread
, which was a big hit with my family! In comparison to standard banana bread, we found that this is somewhat less moist, less dense, and less sweet. It has a milder banana flavor. I omitted the walnuts, but I think they'd be a good addition.
Here's the recipe, with my changes in brackets:
Sourdough Banana Bread

This is an outstanding sourdough banana bread that I would like to pass on. This came from Don and Myrtle Holm's Sourdough Cookbook in 1972. I have used it many times with excellent results.

1/3 cup shortening [salted butter]
1 cup sugar
1 egg
2 cups all-purpose flour
1 tsp baking powder
1/2 tsp baking soda
1 tsp salt [omitted]
1 cup mashed banana [2 bananas]
1 cup sourdough starter
3/4 cup chopped walnuts [omitted]
1 tsp vanilla or 1 tsp grated orange rind [vanilla, but orange rind would probably be good]

Cream together the shortening and sugar, add egg, and mix until blended. Stir in bananas and sourdough starter. Add orange rind or vanilla. Sift flour, measure again with salt, baking powder, and soda. Add flour mixture and walnuts to the first mixture, stirring just until blended. Pour into greased 9x5" loaf pan. Bake in moderate or 350 degree oven for 1 hour or until toothpick comes out clean. Cool before slicing.
We liked this bread warm and, the next day, at room temperature with a little cream cheese. Yum!
I'm linking up to
Tempt My Tummy Tuesdays
and
Tasty Tuesdays
. (The following Blog Hop is for Tasty Tuesdays.)