You may recall the running joke in my household: "It might not
look
good, but it
tastes
good!" I've long been fascinated with the art of cake decorating, but my attempts have been less than wildly successful. Let's just say that I'm not applying for a job at
Charm City Cakes
, because you'd hear their laughter all the way at
your
house. Still, I'm not giving up!
So imagine my reaction when my doorbell rang and I found this package on the front step. The box contained a sampling of the new
Duff Goldman by Gartner Studios
line of cake decorating products. I tried the
chocolate cake mix
and
red fondant
.
I don't often use cake mixes, because we generally get better results when baking from scratch. When I mixed this mix with eggs, water, and oil, I noticed that it looked darker and smelled better than most cake mixes I've tried. The unbaked batter had an aftertaste I didn't care for, but I went ahead and baked it into one 8-inch layer and 9 cupcakes.
After the cake was baked and cooled, I made some homemade vanilla buttercream and started playing. I've never worked with fondant before, so I was especially eager to try that. Using the instructions from
this book
, I shaped my very first fondant rose. I think it turned out okay for a first try. My husband even said, "Wow, you made that?"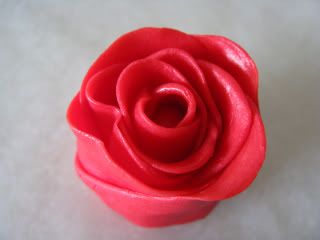 I made one attempt at covering a cupcake with fondant (it looks so easy on TV!), but ... maybe next time.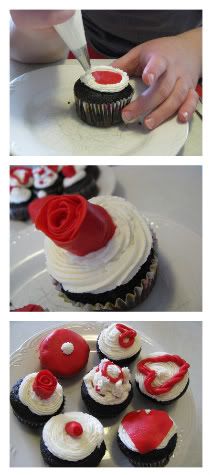 Mooseman and I spent some time decorating cupcakes and playing with fondant. Our results aren't exactly masterpieces, but we had
So. Much. Fun!
We still have plenty of fondant for another day, too.
When I sliced open one of the cupcakes, I noticed that the texture was less dense than most scratch cakes and more like a cake baked from a mix. The cake is tender and I liked the flavor: I think it's the best cake-mix cake that I've tasted.
Since this was my first time using fondant, I have no basis for comparison. I found that it was very easy to handle, except when I rolled it super-thin and tried to handle the sheets. My kitchen might have been warmer than the ideal temperature, too. I definitely didn't need to soften the fondant in the microwave to make it pliable!
I've read that most fondant doesn't taste very good, and the
Duff fondant
claims to taste like buttercream. I thought it tasted pretty good! The flavor resembles buttercream, but the texture, of course, is different. (Most of the Duff colored fondants are buttercream flavor, but yellow is lemon-flavored and brown is chocolate-flavored. I haven't tried either of those.) I don't know that I'd want to eat a big chunk of the fondant--like the rose on the center cupcake--but it's not bad at all.
With all of the red and white, hearts and roses, it feels like Valentine's Day! But I've found a new hobby, and one that Mooseman and I can do together, so it's all good!
The Duff Goldman by Gartner Studios website has some doable
cake decorating projects
, a handful of very helpful
instructional videos
(under "Click here to get started with Duff"), and information about where you can
purchase Duff products
.
I'm linking up
to
Things I Love Thursday
!
Disclosure:
I received these products, at no cost to me, for review purposes. I was not required to write a positive review, and all opinions are my own.