So last week I had the idea for a coffee cake flavored with bacon and brown sugar. When I did a web search, I found that it'd been done. Rather than try to "re-invent the wheel," I decided to try the recipe that sounded best.
I'm not sure I'm allowed to copy the full recipe here, but you'll find it at Moxie:
Bacon-Brown Sugar Coffee Cake
.
I followed the recipe almost exactly as written, using six slices of bacon (the recipe calls for six to eight slices) and light brown sugar (because I don't have any dark brown sugar on hand). To make it healthier (ha) I used lower-sodium bacon and light sour cream.
We wrapped the cooled cake and didn't taste it until the next morning. Before slicing the cake, I dusted it with a little powdered sugar. I think a glaze--maybe with some bacon drippings in place of butter or a touch of maple syrup--would also work, but this was quick and easy.
The result? The cake itself is very tender and tasty. The bacon flavor isn't very pronounced, but it adds to the complexity of the overall flavor. I think that, if the bacon was a little more crisp and more finely crumbled, it would hardly be identifiable. The flavors of vanilla, bacon, and brown sugar, combined with the texture of oats and bacon, make this a very interesting cake. It would be fun to take to a pot-luck brunch (although it might be wise to label it in case anyone doesn't eat pork).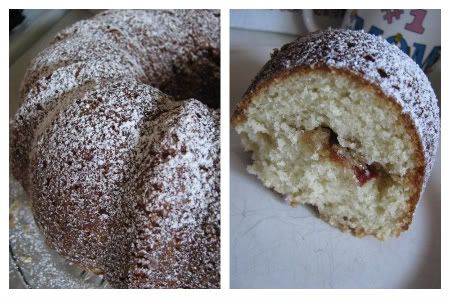 I'm linking up!

The following blog hop is for
Tasty Tuesdays
: