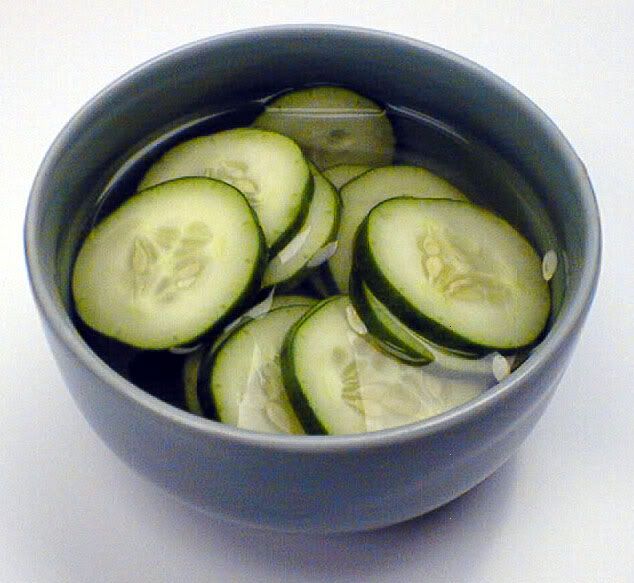 Lots of updates for this week! Some are personal, some are bloggy, and some are other neat things I wanted to share.
If you're a fan of
family-friendly television
(like
Secrets of the Mountain
), don't miss
The Jensen Project
. It's on NBC
tonight
at 8/7 central. To get involved in the campaign to promote more family-friendly TV, check out
Moms 4 Family TV
.
A few days ago, Mooseman went outside to check on the garden, and he came in with 17 (yes, seventeen)
cucumbers
! We've eaten them plain, we've used them in tossed salads, we've pickled them, we've made
cucumber salad
, and we've given some away. If you have any other recipes that use cucumbers,
please
send them to me! (And, as I'm typing this, he just brought in six more cukes. Recipes, please!)
Speaking of Mooseman, he just
made a video ad for his website
, and he would love for you to
check it out
.
Prize winners!
Congratulations to Linda Kish, who won a copy of
Baby Body Signs
, and also to jakiesmom, sandra, and Anita Yancey, who all won copies of
A Maze of Grace
. All winners have been confirmed.
Looking for great, tasty recipes without the
processed
parameter? Download the free e-book from Molly Green and Econobusters.com and enjoy 22 pages of fresh and easy recipes, fabulous tips, and more! Full color, eye-catching photos with each easy-to-use recipe—easily print what you need! Here's a link where you can find more details and download
Molly Green Fresh!
I've slacked off, in a big way, with the
KettleWorx
program--for reasons that have nothing to do with the program itself. So, even though I plan to continue using it, I'm going to wrap up my review. (Click to read all of my
KettleWorx posts
.)
I found the KettleWorx Six Week Body Transformation program to be fun, effective, and increasingly challenging. The Cardio workouts were especially challenging for me.
My favorite workout was the Core series. I also noticed the most results in that area, which is very encouraging!
Since I've been using the KettleWorx program, I've noticed that I have better muscle definition and tone, and, to a lesser degree, increased endurance.
I appreciate that the KettleWorx program focuses on developing long, lean muscles, rather than on bulking up. My husband was concerned that I'd start to look like a bodybuilder, but no worries about that. :)
I chose to modify or skip a few of the moves to prevent back strain or knee pain; the makers of KettleWorx accurately describe the program as "intense," and I recommend that you heed the safety precautions. I recommend the program; just exercise appropriate caution.
Finally, I wanted to share the video for a song that I really like. Hope you enjoy it, as well! (You can see an unofficial, somewhat shorter, but still excellent video--for the same song--
here
.)
Disclosure:
I received the KettleWorx program, at no cost to me, for review purposes. All opinions are my own, and your experience may vary. Before using this product, read the manufacturer's safety information and consult with your physician. I have not been compensated in any way for the other product mentions.
image credit (cucumbers): Photobucket user
poonafrog