Early this spring, while we were on a day trip, my family browsed through a gift shop that had some fun items. I saw a basket full of
cookie stamps
and I was intrigued. They were about $8 each, though, so I was trying to pick out the most versatile design. Before I decided, my husband came over and gently discouraged me from buying one.
On Mother's Day, he surprised me with not one, but a
whole set
of cookie stamps. Not the red-clay type that I'd seen in the gift shop, but glass--which, as it turns out, is much easier to clean. He'd found them on eBay for way less than we would have spent in the gift shop, too.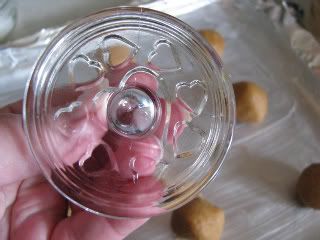 These would typically be used for shortbread cookies, but I was looking for something different. It's been too hot to bake--it still is!--but I saw an opportunity when Alea posted this recipe for
3 Ingredient Peanut Butter Cookies
.
As a quick aside, how many jars of peanut butter does your family open at one time? I found
three open jars,
and even after I'd scraped them all out, I still had to open a new jar to get
one cup
of peanut butter.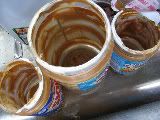 In any case, I mixed up the cookie dough. I rolled the dough into balls instead of dropping it onto the pan. Once they were lined up on the cookie sheet, I flattened them with the stamp. The first one was sticky, but after the stamp picked up a bit of moisture from the dough, I was able to dip it in granulated sugar to prevent sticking.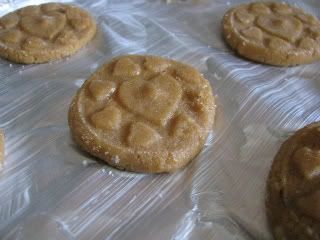 I baked these for ten or eleven minutes, a little less than the recipe calls for. They retained some of the stamped design, but I imagine other types of cookie dough might keep the pattern even better.
The cookies are dense and crumbly, not quite like traditional peanut butter cookies, but delicious and very easy to make! I'll definitely use this recipe again, and I love these cookie stamps!
I'm linking up to
Things I Love Thursday
.