It's time again for
Dishing It!
with Amanda from
Serenity Now
. The topic this month is
Your Summer Reading List
. When I looked at the stack of books that I've read recently or plan to read soon, I realized that it's time to find places for some of these books--and to start reading faster.
The books are nearly all non-fiction, which is an accurate reflection of what I read. When I was young, I used to read constantly. I would read a lot of fiction, but I'd read anything from comics to cereal boxes. Now, I'll occasionally read a novel, but for the most part, I read to learn. I didn't include the Bible in my stack of books, only because we keep it in a different place.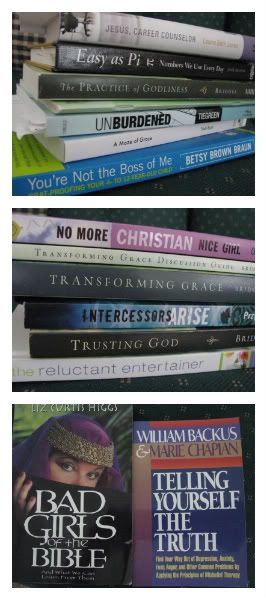 The top photo shows some of the books I've read recently. These are waiting to find new homes--either on our bookshelves or on someone else's.
In the second photo is the stack of books that I'm either reading now or planning to read soon. Most of them are for review, so you'll hear about them after I read them.
Finally, the last photo shows two books that I picked up when our church library was clearing out the shelves. I haven't read them yet.
Amanda also posed a question about the magazines we read. If you remember my
magazine mess
, you'll have a pretty good idea. I haven't renewed all of those subscriptions, because it's time-consuming enough to keep up with my current subscriptions:
Everyday Food
,
Prevention
, and
The Old Schoolhouse
.
What are you reading?
To see all of the questions, to see other bloggers' responses, or to link up your own post, click through to
Serenity Now
.