This recipe is from
Cupcakes
(Ceri Hadda
, published 1995 by Simon & Schuster).
The author describes them this way: "A grainy dollop of peanut-butter filling nestles within these fudgy cupcakes." I don't think I've ever tried the recipe before, but I can't imagine why! Of course the day I baked them was the hottest day of the summer, but ... sometimes you just need chocolate.
Changes and substitutions that I made are noted in brackets.
Peanut Butter Cups
Makes 12 cupcakes
Filling:
6 tablespoons peanut butter (creamy or chunky) [creamy]
1/4 cup granulated sugar
Batter:
1/3 cup unsweetened cocoa powder
1/4 cup hot water
1 cup all-purpose flour
1/2 teaspoon baking powder
1/4 teaspoon baking soda
1/8 teaspoon salt
6 tablespoons (3/4 stick) unsalted butter, softened
1/3 cup peanut butter (creamy or chunky) [creamy]
3/4 cup firmly packed light brown sugar
2 egg yolks [1 whole egg]
1 teaspoon vanilla extract
1/3 cup milk [heavy cream]
Preheat the oven to 350 degrees. Line 12 muffin tins with paper liners or butter and flour the tins; set aside.
Make the filling: Combine the peanut butter and sugar in a small bowl until well blended. Set aside.
Make the batter: Combine the cocoa powder and hot water in a cup until smooth; set aside. In small bowl, whisk together the flour, baking powder, baking soda, and salt; set aside.
In a medium bowl with an electric mixer on high speed, beat the butter and peanut butter until light and creamy. Slowly beat in the sugar. Lower the mixer speed to medium; beat in the egg yolks, one at a time. Beat in the cocoa mixture, then the vanilla. Lower the mixer speed to low. Beat in the flour mixture alternately with the milk, beginning and ending with the flour and beating just until combined.
Spoon about two-thirds of the batter into the prepared tins. Top with equal amounts of the filling, then the remaining batter. Smooth the tops.
Bake until the tops of the cupcakes are cracked, the edges are springy, and the centers are still slightly soft when lightly pressed with a fingertip, about 20 minutes. Cool in the tins on a wire rack.
The muffin cups were fairly full, but they didn't overflow. I didn't spend a lot of time smoothing the batter, but I tried to cover up the filling.
The author suggests frosting them with a milk-chocolate frosting, or serving with whipped cream and fudge sauce. We kept it simple and added just whipped cream. My husband and son thought they were just good; I thought they were outstanding. I'm looking for an opportunity to bake them again!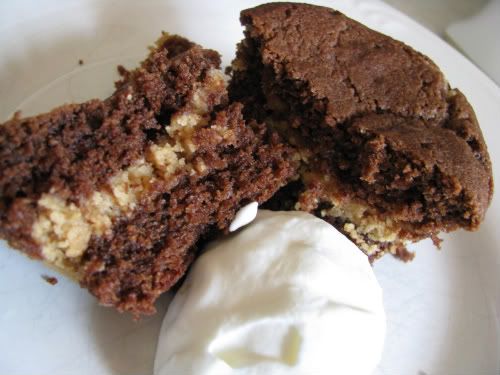 I'm linking up to
Chocolate Friday
at Stop and Smell the Chocolates
and
here:
Disclosure:
This post contains an affiliate link. If you click through my Amazon Associates link and make a purchase, I will receive a small commission. Thank you!