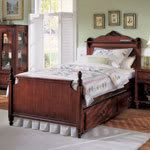 Not long ago, I wrote that my 12-year-old son is now taller than I am. Then yesterday, we saw a friend who exclaimed, "He's
taller
than you!" She went on to ask Mooseman how old he is, then tell him, "You're going to be tall, like your dad!"
Clearly--since I'm 5'3" when I stand up as straight as I possibly can--I know
nothing
about being tall. So it still surprises me when I see my son stretched out on the sofa or on his bed. When did he
grow
so much? I mean, my sister and I were in
twin beds
until we were adults, and now here's my 12-year-old already kicking the footboard! Thank God that he's healthy and strong, but I'm starting to think that we're going to have to start shoe-shopping where the pro basketball players shop!
This is a
Photobucket image
, not anything in our house!