I've used
Glue Dots adhesives
for making cards and scrapbook pages, and I've found them to be super-convenient to use. But when
TwitterMoms
issued a
Summer Bonding Project
challenge, I was looking for a different application.
We had an empty cookie tin (about 3-1/2" tall and 4" in diameter) that I'd been trying to think of a way to repurpose. As I glanced over at the endtable in our family room, I decided that I'd turn the tin into a container to hold the three remote controls that tend to
get lost
clutter up the table.
These were the materials I used. Everything I used was already on hand, purchased on clearance or on sale--except for the Glue Dots, which were provided to me for this project. (Even the cookies were from the thrift store!)
I didn't want to make this into an all-day project. I cut a strip of patterned paper to wrap around the can, but a 12" length didn't quite reach around. I tried to fill the gap with a strip of cardstock, but it didn't look right; I added a band of ribbon. (I would do this differently next time.)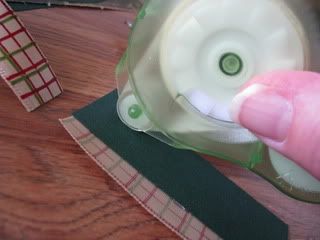 The
MINI GLUE DOTS DOT N' GO
dispenser made it very easy to apply several Glue Dots down each side.
To keep the remotes from clunking too much in the bottom of the container, I lined the inside. I decided to use the corrogated disk that came in the cookie tin; the cookies were in a foil bag, so the paper was very clean. I secured it with
Craft Glue Dots
.
I cut a strip of cardstock to line the inside. Again, it wasn't quite long enough to reach all the way around, so I filled in the space with another strip of cardstock.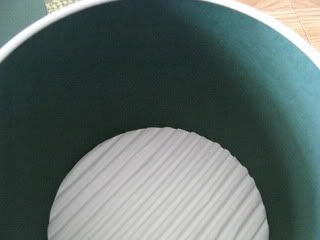 Finally, I traced the bottom of the tin onto cardstock and cut out a circle for the bottom (outside) of the tin, so it won't scratch the table. (If I had a sheet of felt, I would have used that instead.) I adhered that with
Mini Glue Dots
, which was a little tricky on the rim of the tin. However, the Glue Dots are sticky enough that I know the paper is secure.
I'm not happy with the way the ribbon-patched seam turned out, so I'll show you the other side of the new remote-control center: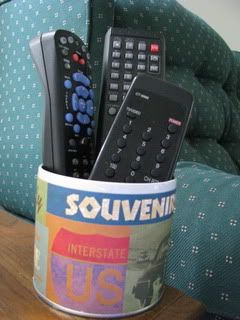 For more information:
Disclosure:
I wrote this blog post while participating in the TwitterMoms and Glue Dots blogging contest to be eligible to receive a $30 gift card. For more information on how you can participate, click
here
.