It seems like forever since I've posted a recipe other than dessert! I haven't posted our menu plans, because we've been having the same-old dinners. Last week, though, I needed to come up with a dinner that would meet two requirements: stretch a small amount of chicken to feed my family, and use up a pint of grape tomatoes.
This is really just a variation of
Pasta with Broccoli
, but this version feels like summer, for some reason. As always with my recipes, take this as a guideline and adjust the quantities to fit your own needs and preferences.
Pasta with Chicken, Tomatoes, and Garlic
Boneless chicken (3/4 pound, cut into bite-size pieces)
Grape tomatoes (1 pint, cut in half)
Pasta (1 pound)
Fresh garlic (about six cloves, chopped)
Olive oil (I used EVOO, about 1/4 cup)
Basil (dried, about 1 tsp.)
Black pepper to taste
Parmesan cheese (optional, as garnish)
Cook pasta according to package directions; drain.
Cook chicken in large skillet until no longer pink. Push it to the edge of the pan.
To the center of the pan, add olive oil and garlic. Cook and stir until the garlic just starts to get tender; you don't want it to brown. Stir into the chicken.
Add tomatoes, basil, and pepper. Cook and stir for a few minutes; the tomatoes should be warm but not really cooked. Toss with pasta and serve. (I think it's more traditional without the cheese, but I prefer it with cheese.)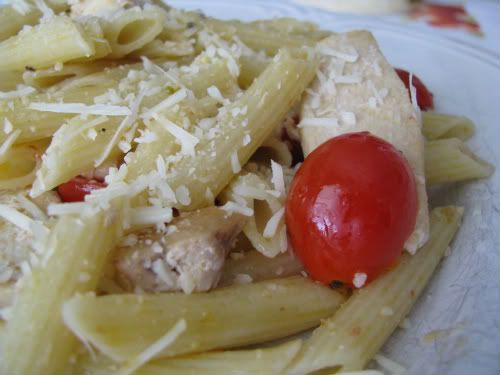 For more recipes, click through to
Tempt My Tummy Tuesday
,
Tasty Tuesdays
, and
Tuesdays at the Table
.