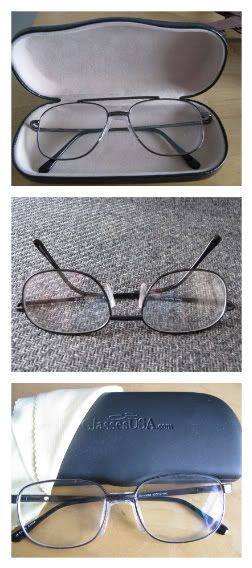 Do you see much difference among these three pairs of
eyeglasses
? Me neither. Suppose I told you that the top pair cost about $130 (on sale), the middle pair cost $99 (on sale), and the third pair cost about $45?
These three pairs of
prescription glasses
came with virtually identical cases, and I've found the quality to be comparable. The difference? The top two are from our local optometrist, and the third is from GlassesUSA.
Everyone in my family wears
glasses
, although DH generally wears his contact lenses. (All of the ones you see here are Mooseman's.) We have no vision insurance to speak of and, while we like our optometrist, we don't like the prices that his office charges for glasses!
So this year, after Mooseman had his eye exam, we ordered his
glasses online
. We found the selection of frames at GlassesUSA to be expansive, and we appreciated the helpful information such as how to read your prescription and how to choose the best frame for the shape of your face.
What else do I like about GlassesUSA?
Customer service - Helpful information on the website and easy contact information. We had no problems with our order, but I feel confident that any problems would have been resolved quickly.
100% Satisfaction Guarantee - "If you are, for any reason, not completely satisfied with your eyeglasses, you may return them to us for a FULL refund or a NEW pair of glasses – no questions asked!"
When glasses are returned to GlassesUSA, they don't restock them. Instead, they donate the glasses to organizations that sanitize them and distribute them to people around the world who can't afford the glasses they need.
If you would like to order from GlassesUSA, use code
Mommy5
to save 5% off your final order. This code never expires.
Disclosure:
I received a pair of single-vision glasses, at no cost to me, for review purposes. I have received no other compensation in any form for writing this review, and all opinions are my own or those of my family. I learned of this opportunity through my membership at
Mom Relations
.