Look how much they've grown since I last posted pictures!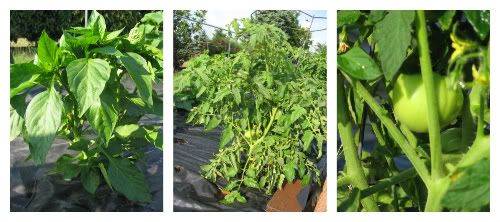 The pepper plants (first photo) have grown, but I didn't see many flowers or any fruits. The tomato plants, though, are each bearing a couple of tomatoes, maybe two inches in diameter.
The cucumber plants must not have read the tag that says they're supposed to grow as bushes instead of sprawling out all over!
Even though I've encouraged the plant to grow upward--and some of its tendrils
are
wrapped around the tomato cage--this one attached to what's left of a tomato plant from last summer: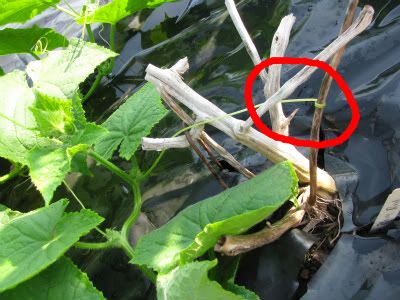 This probably could have stayed on the plant for a few more days, but I picked it because it was lying on the ground.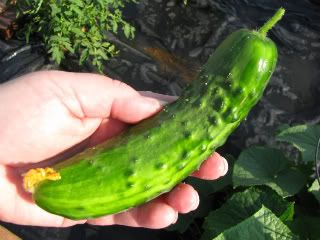 Here for the flowers? These are from the front garden. Marigolds and zinnia:

Another zinnia and black-eyed Susan:
I also have a quick but sad update on the Hoppy family. Last night we noticed one of the biggest rabbits in our yard, closer to the house than we've ever seen any of them. Tonight DH was watering the grass, and--right around the same spot--he came across a pile of dry grass and fur. He picked it up with a shovel and found four baby bunnies, at least three of which were still alive. We didn't know what to do with them, so he returned them to the yard where we think the rabbits live.
What would you have done?