For
Friday's Fave Five
, I wrote about finding the Big Top Cupcake set on clearance. I couldn't wait to try it, but I didn't want to invest the time in making a cake from scratch, in case the pan didn't work well.
So with help from my friend Betty Crocker, I mixed up a chocolate cake batter. Following the directions that came with the pans, I divided the batter evenly between the oiled pans. I was skeptical, because the cone-shaped top was filled much deeper than the base.
Contrary to the directions, the base was done more quickly than the top. Here's how it looked, before and after baking:
I knew that those rounded tops would be a problem. After the cake layers cooled, I sliced off the rounded tops. I realized later that I should have sliced them all the way down to the top of the pans. See why?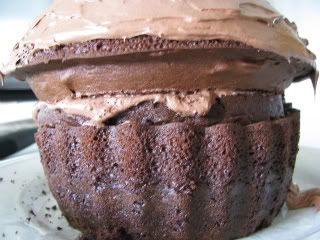 Just like the picture, right? LOL
I was discouraged that this took an entire box of cake mix, and I should have sliced off at least a quarter of the cake. The final product would be a fairly small "jumbo" cupcake. I'll add, though, that this was my first time baking in silicone bakeware, and it was great! The cake dropped right out of the pan
and
stayed in one piece.
Next time I'll know how to do this better. Or I'll try Mikki's idea for
cupcake flowers
instead!