As the end of the week gets here, I feel like letting out a deep breath! I've been busy reading and writing book reviews; I like the process, but I get overwhelmed when my to-do list gets long. I miss writing personal posts, so I wanted to write a sort of wrap-up of the week.
Yesterday I had the perfect plan to have dinner ready when DH came home. I started the slow cooker to cook beans, then later added the rest of the ingredients for chili. Unfortunately, when I did that, I turned off the slow cooker and forgot to turn it back on. As a result, when DH came home, we had no dinner. He was
completely understanding
and
incredibly thoughtful
. He suggested that we go out to eat and save the chili for today. I'm so blessed to have a husband who loves me even when I do absentminded things like this!
I'm still loving the
KettleWorx
program! Earlier in the week, when I was feeling wiped out, I wasn't up for the Cardio workout that I'd planned. Instead, I did one of the
Fast Fat Burn
workouts. It's only ten minutes (plus warm up and cool down), but it's intense. This week I also did Resistance and Core (both for week 4). I'm seeing results--for example, shorts that were tight last summer are comfortable now--but no weight loss. I've also learned that working out first thing in the morning, after not eating for 15 hours, is a Very Bad Idea.
Mooseman asked me to tell you about
the website he has been building
. He calls it
Mooseman!!!
, and he's been posting links to some of his favorite games. He also started a blog to share
track designs for Roller Coaster Tycoon
.
Maybe next week I'll get outside to take some pictures of the garden. A few days ago I noticed that we have the beginnings of cucumbers, as well as flowers on the tomato plants. I hope Hoppy stays away. He was getting bold until DH had a little talk with him. There was no chasing or frightening involved: when DH got within 20 feet of the rabbit, Hoppy took off. We found out the size of the opening that the rabbit needs to get through the fence, though: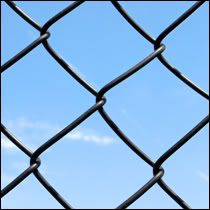 We have a fairly busy weekend ahead and I need a rest! I'm planning to take a couple of days off from blogging. I have posts scheduled for Saturday and Sunday, but I probably won't be checking in as often as I usually do. Have a great weekend, and I'll see you on Monday!
image credits: Photobucket users Jehovah_jarah and
bobbooth