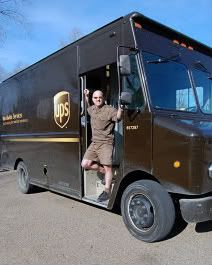 Although I can't speak to this personally, according to a
USA Today
article and a
Fortune
magazine story--both of which refer to a 1995
Wall Street Journal
article--a lot of women have a thing for UPS drivers. In trying to figure out why that is, I came across a long page of people talking about it. (It's not all family-friendly, but you can find it
here
if you like.) Here's how one person there explained it:
A UPS guy NEVER brings bad news. It's nothing but gifts, clothes, and stuff from amazon you treated yourself to. All positive things. A UPS guy is like Santa Claus -- Pure joy is being delivered.
So, according to that theory and others asserted on the same page, women like UPS drivers for these reasons:
They bring us good stuff.
They smile and wave.
They don't stay long.
I'll add one more reason that seems to follow the same logic: They never ask anything in return.
So--again, I'm exploring this theory and not suggesting that this is a universal phenomenon--some women like UPS drivers because of what they give, and because they don't ask anything in return. It's essentially a one-way relationship.
Now, I am in no way equating God with a UPS driver. But how many of us--at least sometimes--value God only because of what He gives us? How often do we neglect to adore Him for who He
is
, and focus only on what He
does
for us?
I think that our personal testimonies have to be, well, personal: the way that God called me to Him and what He has done in my life is a story that I can only tell from my own perspective. But in our own worship time and in our own hearts, do we focus on the blessings that God gives us, or on the pure majesty, power, and love that define Him?
Image credit: Photobucket user
memphismusic