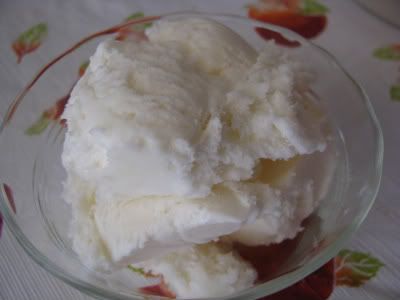 A few months ago, I shared a recipe for
coconut ice cream
that my family liked but didn't love. After that, I kept looking for a recipe that didn't call for canned cream of coconut (which contains gums and stabilizers). Earlier this month, I found a recipe that we really enjoy!
I copied it into my planner (my
BusyBodyBook
saves the day, again!) but failed to note the website where I'd found it. This morning I finally found it again, so I can give proper credit to
The Jalapeno Cafe
for this wonderful recipe.
Toasted Coconut Ice Cream
(Helado de Coca)

1 cup heavy whipping cream
1/2 cup sugar
2 cups half and half [I used 1 cup heavy cream + 1 cup milk]
2 teaspoons vanilla
1 1/4 cup toasted coconut (extra for garnish)

In a medium size saucepan over medium-low heat [I did this in the microwave], warm the cream with the sugar and vanilla. When hot, but not boiling, remove from heat and let cool slightly.

Add the half-and-half and the coconut, stirring well. Cover and place mixture in refrigerator to chill. Place in tub of electric ice cream maker. If not full, add 1/2 cup of cold milk and follow the ice cream maker's instructions. The ice cream should make in about 20 minutes.

To Toast Coconut: Place coconut on shallow baking pan and bake in 325 degree oven, 12 to 15 minutes, stirring often to prevent burning.
The photo I'm including is from the first coconut ice cream recipe we tried, but they look almost identical. I didn't get any pictures of the new batch before it was gone. It was
that
good.
I'm linking up to the
Mystery Ingredient Challenge: Coconut Edition
at
Our Krazy Kitchen
and
Works For Me Wednesday
at
We Are THAT Family
.
Disclosure:
Although I have reviewed the BusyBodyBook, I have not received any compensation for mentioning it here.