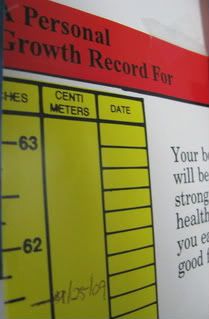 Well, he's done it now.
Mooseman has outgrown this chart. When I saw him this morning, he looked
tall
. And then I noticed:
he's taller than me.
I measured him and, sure enough, he's almost up to the bottom edge of the red bar on this chart.
When he was little, we would measure his height every few weeks. Every quarter-inch of growth is marked on the chart. As he got older, we didn't measure him as often. Now it's been several months since we checked his height, and he's grown nearly three inches in that time.
Obviously, I knew this day would come. I'm not quite 5'3" and I fully expected that Mooseman would be taller than me.
Someday
. Not when he was 12. Not even at 12-1/2.
It's funny, too, that I'm feeling kind of sentimental about it. He's passed all sorts of milestones, but this is the first one that really made me realize that my "little boy" is growing up.
Have you ever had a moment like this, when you suddenly realized that your child is growing up more quickly than you could have imagined?