Even though DH and I are lifelong New Jerseyans, we were married for several years before we did it. Then, one adventurous day, we did: we took the
Philly Cheesesteak challenge.
If you watch the Food Network or the Travel Channel, you've probably seen the competition between
Pat's
and
Geno's
. We wanted to try it for ourselves.
After we found a parking space, we got in line at Pat's. We read
the sign
and practiced
how to order a cheesesteak
. We didn't want to wait in a long line and mess up the order! DH ordered like a local, and we got our cheesesteaks, "Whiz Wit," or "with Cheez Whiz and onions." We waited longer in line than we took to consume the sandwiches.
Then we crossed the street to try the steak from Geno's. The atmosphere and the cheesesteaks were quite different, as
this reviewer notes
. DH and I didn't agree on which was better: what he liked about Geno's was what I disliked about it. Still, it was fun to try both, side by side ... and I don't think we'd refuse either one.
The real point of this post, though, is that recently we decided to skip the drive to Philadelphia and make cheesesteaks at home.
We started with hoagie rolls, onions, olive oil, and these two key ingredients: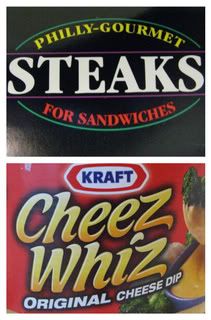 I doubt that the real cheesesteak shops are using frozen steaks, but it's more practical and affordable for home. And yes, it's Cheez Whiz. Please don't judge me. This is probably the third jar I've purchased in the past ten years, but it's essential for an authentic Philly-style cheesesteak. Provolone or American cheese just won't do.
I sauteed the onions in a little olive oil, then removed them from the pan. I split the rolls and lightly toasted them in the oven. DH spread the Cheez Whiz on the rolls. (You'll need more than this for an authentic cheesesteak. While this home version is probably healthier than the original, this is
not
health food.)
The steaks cook in just a minute or two, so have everything ready to assemble.
And there you have it: Philly cheesesteak "Whiz Wit."
Which local foods are your favorites? Do you have a home version, or do you leave the cooking to the pros?
For more recipes, click through to
Tempt My Tummy Tuesday
,
Tasty Tuesday
,
Tuesdays at the Table
, and
What's Cooking Wednesday
.