This is a dish from my childhood. For all the memories it evokes, though, I don't recall particularly
liking
it at the time. I do now, though, and my family prefers it to mashed potatoes.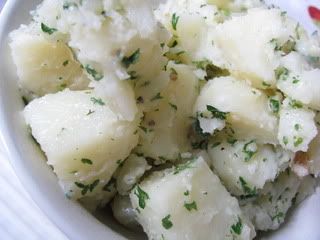 Parsleyed Potatoes
Potatoes (Eastern, about a pound), peeled and cut into large chunks
Butter (a few tablespoons, or more if you like)
Parsley (I used a tablespoon or two of dried, but I'm sure fresh would work)
Salt and pepper to taste
Boil potatoes until tender. Drain. Add remaining ingredients to potatoes and stir gently until potatoes are coated.
This is so simple that I don't even feel right linking it up to the recipe swaps! Hope you like it.