I must sound like a broken record:
It's been another rough week, and I've been very stressed. But this week has brought some wonderful blessings, as well, and I'm choosing to focus on those. Here, in no particular order, is my
Friday's Fave 5
list:
I got a phone call from an old friend. We've exchanged Christmas cards and the occasional email, but we hadn't talked for at least a couple of years. It was so good to chat, catch up, and try to find a day to meet for lunch.
BookSneeze just made a limited number of copies of Plan B available to bloggers, and I was able to place my request before they ran out. I'm looking forward to reading it!
At a time when I was feeling particularly low, I realized (again) that even when I don't feel as though God is with me, He is. What a gift that is!
Since temperatures reached up to 90 degrees this week, I have a renewed appreciation for air conditioning!
Our flowering bulbs still look lovely, with the exception of the tulips--which are evidently a favorite of Hoppy, our neighborhood rabbit. It just adds insult to injury when he chews off the flower and leaves it on the ground (as in the last photo). :)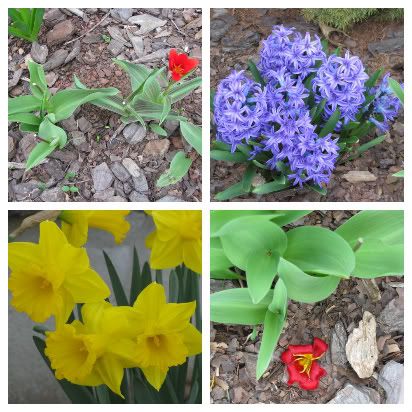 Visit Susanne to read more
Friday's Fave 5
, or to link up your own post.