Not along ago, we splurged on
real vanilla beans
for making ice cream. When I used a bean to make a custard base, the pod was cooked in the custard mixture; I didn't save that pod (although
Nicole says
it can be done). But when I used a vanilla bean to make Philadelphia-style ice cream, I just scraped out the seeds and didn't need the pod for the recipe.
Not wanting to waste anything, I remembered that my sister had mentioned making vanilla sugar. I placed the scraped bean into a small Rubbermaid container and filled it with sugar. Occasionally I shook the closed container to break up the lumps and distribute the flavor. Within a day or two, the sugar was thoroughly scented with vanilla.
This vanilla sugar is very, very delicious in coffee! I haven't tried it for anything else yet, but it makes good coffee taste even better. And it's my understanding that the sugar can be replenished without replacing the vanilla bean; I'm guessing that the flavor will be milder or will take longer to transfer to the sugar.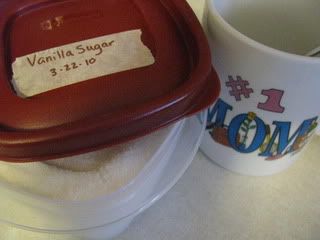 Visit Kristen for more
Works for Me Wednesday
.