I mentioned this on
Menu Plan Monday
and promised to post the recipe. Here it is!
We like chiles rellenos from the Mexican restaurant. Who wouldn't like a mild chile pepper that's stuffed with cheese, battered, and deep fried? But to save money and "healthify" the dish a bit, we decided to try making it at home. This is adapted from a recipe I found online years ago. I'll list the ingredients from the original recipe, then list the changes that worked well and those that didn't. :)
4 cans (4-ounce) whole green chiles
4 oz. Monterey Jack cheese with jalapenos
2 cups cooked turkey
1/2 cup flour
1/2 teaspoon baking powder
1/4 teaspoon salt
1/2 cup milk
3 eggs
2/3 cup shredded cheddar
Changes that worked:
Until this time, I've always made this with cooked chicken instead of turkey.
I don't use the pepper Jack cheese, but regular Monterey Jack or mild cheddar, about eight ounces total.
We like this with a little red sauce, so I make that right in the bottom of the baking dish.
I made two dinners' worth so I could freeze one of them. I omitted the batter on the frozen dish; I'll add it before baking. It was convenient to assemble, but I haven't tried baking the frozen one. [Updated to add: The frozen batch turned out perfect. I thawed it in the refrigerator, then baked it (covered) for 15 minutes before I added the batter. This might not be necessary, but I wanted to be sure that it was heated through. The result was just as good as the first batch.]
Since I was making a double batch, I used only 8 ounces of cheese for both trays. I used it all inside the peppers and omitted the sprinkling on top. It was less indulgent but still good!
Changes that didn't work:
This time I used cooked ground beef instead of the chicken or turkey. It tasted fine but is harder to stuff into the peppers.
This time, also, I added chopped garlic and onion to the meat mixture. What we found is that the dish doesn't bake long enough for those to mellow; they would have to be cooked in advance.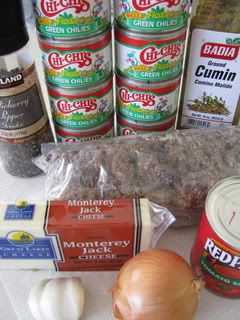 Lightly grease an 11x7 baking dish. (I think a 9x9 would work, as well, but I haven't tried that.)
If you want the red sauce, pour about 4 ounces of tomato sauce (plain) in the bottom of the dish. Sprinkle some chopped onion and minced garlic over the sauce, and add black pepper and cumin to taste. (I used about 1/4 of a medium onion, 2 cloves of garlic, about 1/2 tsp. cumin, and a little pepper.)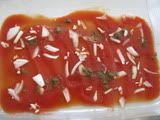 Drain and rinse the chiles. Cut them up one side, seed them, and open them flat. Arrange in the baking dish. (I find it easier to fill them before arranging them in the dish.)
Cut the cheese and chicken into 1/2-inch strips. Fill each chile with cheese and chicken strips. Fold over edges of chiles and place seam-side down in dish. (I forgot the seam-side down part, but fixed them before I moved on to the next step. And my photo won't match this description because I used beef this time.)
I had some extra beef/onion/garlic mixture left over, so I just added it to the top.
In a medium bowl, combine flour, baking powder, and salt. In a small bowl, whisk the milk and eggs. Slowly add egg mixture to flour mixture, beating until smooth. Pour over prepared chiles. (My batter isn't smooth because I mixed the ingredients all in one bowl. It turned out fine after baking, though.)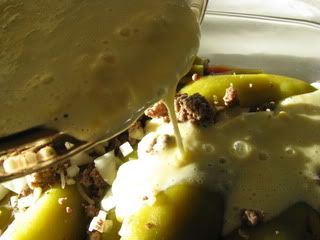 Bake at 450 degrees for 15 minutes. (Or, about four minutes less than I did.) Remove from oven and turn off heat. Sprinkle shredded cheese over top and return to oven for one minute to melt cheese. (I skipped this step.)
It's not beautiful, but it tastes
so
good! It could probably be baked in individual dishes for a better presentation, but I haven't tried that.
This isn't the most frugal dinner we make (each can of chile peppers costs about a dollar, then add the cost of cheese and meat), but it's much cheaper than going out to eat!