When it comes to organizing, I need all the help I can get! That's why I was excited when Rubbermaid offered me a chance to participate in their
Quick Organizational Challenge: The Junk Drawer
.
Our junk drawer hadn't been cleaned out since ... well ... let's just say it'd been a long time. This challenge gave me the nudge I needed to take on the project. Once I got going, it was kind of fun to see what I found. Here's the
Before
picture:
(It could be worse, but wait until you see how much of this stuff was just unnecessary. The container you see is a Rubbermaid TakeAlongs divided food storage container, which has been storing our rubber band, string, and wire twister collections, along with a bunch of other miscellaneous items.)
Here's the new product, a six-piece interlocking drawer organizer set from Rubbermaid. Sweet.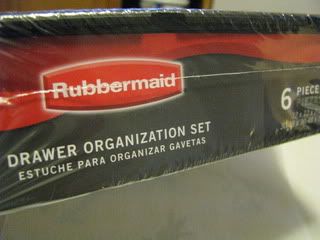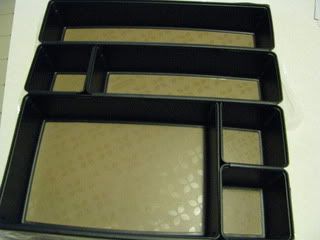 The entire set, assembled this way, measures 12" x 12", and the smallest sections are 3" x 3" square. The sections interlock, so it'll keep the configuration you set up. Each section is lined with a slightly textured surface, so items don't slide too much, and each section has no-slip feet to keep the unit in place. Very neat.
I couldn't fit the entire set in this narrow drawer, so I decided to use three of the sections. But first I had to empty the drawer and sort out what really needs to be there. After all, organizing
junk
is as illogical as vacuuming
around
clutter. (Not that I haven't done
that,
but that's another post.)
Why are we keeping these broken, absolutely useless clips?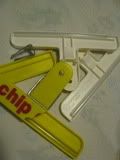 We removed these child-safety latches years ago; why are they still here?
Lids for cans of dog food. Haven't had a dog for ten years.


Innocent victims of furniture abuse
No clue what this goes with. I kept it anyway, just in case!

Now this explains a lot!

After I'd tossed the junk, I set out to organize the remaining items. I put the loose screws into a sandwich bag and transferred the smallest items--rubber bands, paper clips, and so on--to the 3x3 compartments.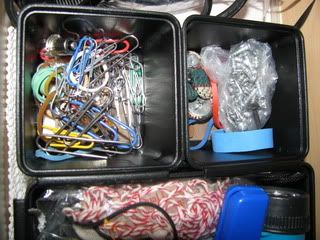 Here's the final result:
As I looked at these photos, I realized that I should have taken out the non-skid drawer liner; it's not needed with this organizer. Overall, though, I'm very happy with the result! I plan to use the remaining sections (the ones that don't fit in this drawer) to organize some of the loose items in my silverware drawer. No more getting sliced on the vegetable peeler, I hope.
Ready to take on your own Organizational Challenge?
Buy it:
Learn more about Rubbermaid
No Slip Interlocking Drawer Organizers
.
Win it:
Thanks to the team at Rubbermaid, one lucky reader will win the same six-piece set that I received.
This giveaway is closed.
(See who won
here
.)
Here's how to enter:
Help me feel better about my clutter: leave a comment and tell me about one of your own organization challenges. Be sure to leave a way for me to contact you. Limit 1 entry by this method. This must be done in order to qualify for extra entries.
Here's how you can earn
additional entries
(please leave one comment per entry):
Join the Rubbermaid Club. (1 entry)
Become a fan of Rubbermaid on Facebook. (1 entry)
Check out the Rubbermaid blog and tell me something you learned. (1 entry)
Subscribe to my feed in a feed reader. If you already subscribe, leave a comment to let me know. (1 entry)
Subscribe to my feed by email. Subscriptions must be verified to count. If you already subscribe, leave a comment to let me know. (2 entries - mention Entry #1 and Entry #2)
Follow both me and Rubbermaid on Twitter and tweet about this giveaway ( RT @FC_Melissa Enter to win a @Rubbermaid Drawer Organizer Set http://bit.ly/de1KSO #giveaway ). (1 entry per day)
Enter this giveaway in another blog's current giveaway linky list. Leave a comment here with a link to the post. (3 entries - mention Entry #1, Entry #2, Entry #3)
Blog about this giveaway with a link back to this post. Leave a comment with a link to your blog post. (2 entries - mention Entry #1 and Entry #2)
Add my blog to your blogroll, and send me a link to your blog. (2 entries - mention Entry #1 and Entry #2)
If you qualify for the top-secret bonus entries, leave two comments (one per entry).
More details: Open to residents of USA, age 18 or older. Giveaway ends 2/22/10 at noon (Eastern time). Winners will be chosen by the random number generator at Random.org. Each winner will be contacted by email and must claim the prize within 48 hours, or another winner will be chosen. Void where prohibited.

Disclosure: I received the pictured drawer organizer set, at no cost to me, for review purposes. All of the opinions in this post are mine alone. The giveaway prize is being provided by Rubbermaid.