I hadn't made this recipe for several years until my mom reminded me of it. These rolls are gooey and delicious. They're quicker to make than most similar breakfast breads because the dough only needs to rise once. I like to make these in advance, refrigerate the pan overnight, then bake the rolls in the morning. They're good when they're warm. We've, um, never kept them long enough to try them cold.
The recipe is from
Pillsbury Chocolate Lovers II
(Pillsbury Classics No. 49, copyright 1985). This is a great little cookbook that contains a few of my all-time favorite recipes, including the raspberry chocolate buttercreams pictured on the cover. I can't find anyone selling it now except on
eBay
. I've slightly adapted the recipe, and the comments in parentheses are my own.
Quick Chocolate Caramel Rolls

Topping
1/2 cup firmly packed brown sugar
1/4 cup chopped nuts (I use walnuts or unsalted almonds.)
1/2 cup butter, softened
2 tablespoons corn syrup (Omit this for a buttery glaze instead of sticky caramel.)

Rolls
3 to 3-1/2 cups all-purpose flour
1/4 cup sugar
1 teaspoon salt
1 pkg. active dry yeast (I used Rapid-Rise this time.)
1 cup water
2 tablespoons butter
1 egg

Filling
1/2 cup semi-sweet chocolate chips
2 tablespoons butter, softened
1/4 cup finely chopped nuts (I omitted these, this time, but generally include them.)

Grease 13x9-inch pan. In a small bowl, combine topping ingredients; blend well. Drop mixture by spoonfuls into prepared pan; spread evenly. Set aside.

In large bowl, combine 1-1/2 cups flour, sugar, salt, and yeast; blend well. In small saucepan (or microwave-safe bowl, if you're using a microwave oven), heat water and 2 tablespoons butter until very warm (120-130 degrees F.). Add warm liquid and egg to flour mixture. Blend at low speed until moistened; beat 3 minutes at medium speed. Stir in an additional 1-1/2 to 2 cups flour until dough pulls cleanly away from sides of bowl.

On floured surface, knead dough 1 minute. (I did this right in the mixing bowl.) Roll dough into 15x7-inch rectangle. (I lightly floured a sheet of plastic wrap and, on that, pressed the dough into shape. Rolling it thinner might be better, but you can decide when you see the pictures.)

In small saucepan (or microwave-safe bowl) melt chocolate chips and butter, stirring constantly. Cool to consistency of soft butter. Spread over dough; sprinkle with nuts. Starting with 15-inch side, roll dough up tightly, pressing edges to seal.





(I lifted the plastic wrap onto a cutting board so I wouldn't cut my countertop. Alternately, use unflavored dental floss to slice the dough without crushing it; that works well, too.) Cut into 12 slices; place cut-side-down in prepared pan.





Cover the pan loosely with plastic wrap and cloth towel. Let rise in warm place until light and doubled in size, about 30 to 45 minutes. (Or refrigerate overnight. Let the rolls warm up a bit before baking.)

Heat oven to 375 degrees F. Bake 25 to 30 minutes or until golden brown. Cool 1 minute; turn onto serving platter or foil.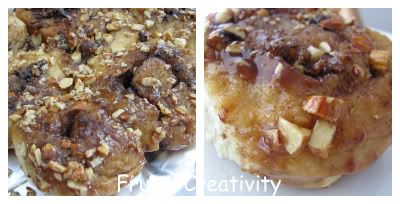 Click through for more Chocolate Friday at
Stop and Smell the Chocolates
!
Disclosure:
The link to eBay is
not
an affiliate link, and I have no connection whatsoever with the seller.