Last week on
Menu Plan Monday
, I included "pulled" pork grilled burritos. I'd cooked pork tenderloin in the slow cooker--with sliced onions, black pepper, a few ounces of plain tomato sauce mixed with water, and about a teaspoon of liquid smoke (I use
Stubb's
)--until it was tender. I chilled the drippings until the liquid gelled, spooned off the solidified fat, and added the gelatin to the chopped meat. (This freezes well; just thaw it before using.) By popular demand (okay, one or two requests), I'm posting the recipe for the grilled burritos.
Spoon some filling onto a flour tortilla. This is about 1/2 cup filling on a large tortilla. It could hold more, but overstuffing tends to make the burritos harder to handle.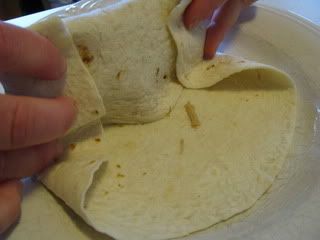 Fold over one side, then both ends; roll up. I hope the photo explains it better than I did!
Secure with a toothpick. I try to be consistent--for example, use one toothpick per burrito--so we don't have any surprises later!
From about two pounds of pork tenderloin, I filled seven large tortillas. This could be done with smaller ("fajita size") tortillas, if you prefer. I brushed them with canola oil ...
... and browned them in a skillet until they were golden brown and crispy.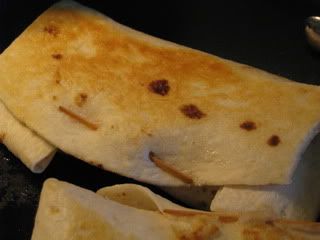 We serve these with BBQ sauce and sour cream.
A little more liquid smoke would have given the meat more of a BBQ-like flavor, but my family declared these "really good."
I'm linking up! For more recipes, click through to
Tempt My Tummy Tuesday
,
Tasty Tuesday
,
Tuesdays at the Table
, and
What's Cooking Wednesday
.