When I saw this recipe for
Ice Cream Cake Roll
(posted by Kim at Kelli's
3 Boys and a Dog
), I knew I had to try it. Kim had a great tip for filling the cake roll. But since I'd been making
homemade ice cream
for a few weeks at that point, I wanted to try the recipe using homemade ice cream.
With the flavor combination of
Drake's Cakes Funny Bones
in mind, I decided to make
peanut butter ice cream
.
I baked the cake according to the recipe, except that I used all-purpose flour instead of cake flour. Be careful when you flip the cake onto the towel dusted with confectioner's sugar: I got a
poof
of sugar that was a mess to clean up. I rolled up the warm cake in the towel and let it cool while the ice cream churned. I transferred the ice cream to a freezer container, but assembled the cake while the ice cream was still soft enough to spread. Don't spread the ice cream as close to the edge as I did; it oozed out as the cake rolled up. We had to scrape off the extra ice cream
and eat it
.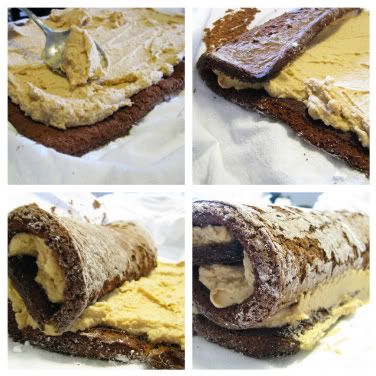 We wrapped the cake roll in foil and stored it in the freezer. The next day I unwrapped it to slice. This is much easier is you allow the cake roll to soften slightly before attempting to slice it.
The cake has a mild chocolate flavor; next time I might add a layer of chocolate ganache between the cake and the ice cream. The outside of the cake wasn't pretty; some parts were dusted with powdered sugar and some peeled off. This could be fixed by frosting the roll or maybe dusting with more powdered sugar. We also found that the dessert is much more enjoyable when the ice cream softens a bit. It was worth the effort, though, and I'll make it again.
I'm linking up! For more recipes, click through to
Tempt My Tummy Tuesday
,
Tasty Tuesday
,
Tuesdays at the Table
,
What's Cooking Wednesday
,
Ultimate Recipe Swap
, and
Chocolate Friday
.