Every time I bake a cake for my husband, something goes wrong. It's become a running joke: since before we were married, we've been saying, "It might not
look
good, but it
tastes
good!"
So today I was baking a heart-shaped cake for Valentine's Day weekend. I couldn't find the third cooling rack, so I had to turn the cake out onto my hand, then flip it onto the rack. The first layer turned out well!
Then, as I was taking the second layer out of the pan, I got distracted. I caught the edge of the cake on my finger just as I was turning the cake onto the cooling rack.
Now I get to practice my "repair it with frosting" skills, which should be (but aren't) very good by now! If the cake doesn't look bad when it's finished, I'll post another picture.
Edited to add:
This was an adventure in improvisation, but it turned out okay! The cake is filled with
Sturdy Whipped Cream Frosting
; I made a half-batch because I only had one cup of heavy cream. I used the remaining four ounces of cream cheese to make chocolate frosting. (I followed the recipe for buttercream, except for the substitution of cream cheese for butter. The result was glossy, fudgy, and smooth. The cream cheese cuts the sweetness a bit, and my son said it was the best chocolate buttercream he'd ever tasted!)
The white frosting and the chocolate frosting are slightly marbled in some places. Even so, it turned out much better than I thought it might! This is the part of the cake that broke: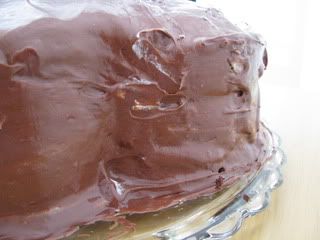 Thanks for your encouraging comments this afternoon!