Last week I happened to notice that zucchini squash was on sale at my supermarket. That, in itself, is not unusual. But
unlike
most times, it didn't look as though it had been tossed, banged around, or, um,
squashed
. Seizing the opportunity, I purchased three smallish ones. Most of the time I saute them with onions and olive oil, but this time I tried something different. It's definitely not an original idea, but roasting vegetables isn't something I do often.
Roasted Vegetables

zucchini squash (I used 3 smallish ones, but all quantities are flexible)
onion (1 medium, sliced)
grape tomatoes (about 1 cup)
garlic (4 cloves, slivered)
olive oil (EVOO, about a few tablespoons)
salt and pepper to taste

Slice the zucchini about 1/4" thick

Toss with remaining ingredients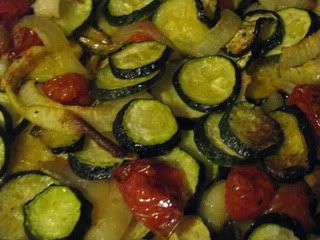 Roast in oven until done
I mixed everything in a Pyrex pie plate and cooked it for about 30 minutes, stirring once during the cooking time. Although most recipes for roasted vegetables seem to recommend a higher temperature, I set my oven for 375F because I was already using the oven at that temperature for meatloaf and baked potatoes. Hope you like this!
I'm linking up! For more recipes, click through to
Tempt My Tummy Tuesday
,
Tasty Tuesday
,
Tuesdays at the Table
, and
What's Cooking Wednesday
.