If you missed the beginning of the ice cream series, you can find it
here
.
When I last posted about making ice cream, we'd tried chocolate ice cream (yum) and mint chip ice milk (good). I was in the middle of making banana ice cream, using
this recipe
from Alton Brown. (My earlier post contains a link to a Hulu video of the "Good Eats" segment, which includes more tips.)
I think I probably used one banana too many, and that accounted for the excess volume. Still, the result is very satisfactory! The taste is very much like fresh bananas. The color is like that of the inside of a banana, not bright yellow like some commercial banana ice cream. It's not terribly photogenic, but what it lacks in visual appeal, it makes up in flavor and consistency.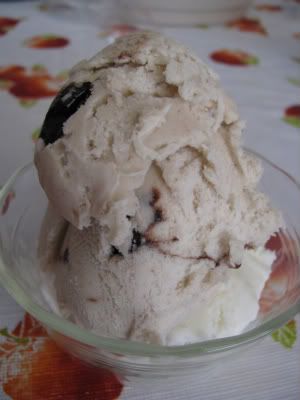 You might be able to see that I swirled a bit of chocolate syrup through this part of the ice cream. This ice cream experiment has been an exercise in compromise, as well. To the banana ice cream I would have added chocolate chips and walnuts; my husband wanted to leave it plain and add toppings later. We compromised by adding a chocolate syrup swirl to the smaller half-batch. For the coconut ice cream, I would have gone with coconut fudge or coconut almond fudge ... but DH, ever the purist, asked for it to be left plain. I did it his way, because he's much more of a coconut fan than I am.
So for coconut ice cream, we adapted
this recipe
. Since the cream of coconut that I purchased was in two smaller cans, I multiplied the recipe by about 1-1/4 to use all of it. It was easy to mix up, but when we churned it, we found that the coconut pieces were getting stuck on the dasher of the ice cream maker. As a result, the finished ice cream contains some clumps of coconut.
Mixed reviews on this one. We all like the flavor, which is sweet and very coconutty. (Is that a word?) I would have preferred it without the strands of coconut, but my husband liked them. I also don't love that the canned cream of coconut contains gums and stabilizers; avoiding them is part of the reason for making our own ice cream. (I've seen recipes that use sweetened condensed milk and coconut extract, but it seems that real coconut extract isn't readily available.)
The coconut ice cream is pure white and, again, not very visually appealing. (A fudge ripple would help, I think!)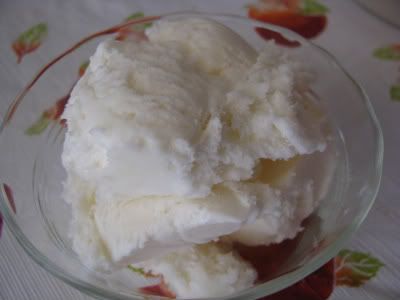 We've also made another batch of mint chip ice cream (my son's favorite) with heavy cream--no substituting lowfat milk this time! It's wonderful, but we don't have photos yet. I'll try to take one before the container is empty!
The next flavor we're trying is coffee, based on the recipe in
How to Cook Everything
. Fresh-ground coffee is steeped in hot milk, which is strained and used as part of the liquid base. The ingredients are nothing more than coffee, milk, sugar, heavy cream, and vanilla extract. I tasted the mixture and have high hopes for this ice cream!
Frugal tips:
We purchased two quarts of heavy cream at a warehouse store, where we paid roughly half the price that we'd pay in our supermarket.
I've been tempted to purchase cookbooks of ice cream recipes. But I've found numerous recipes online and in the recipe book that came with the ice cream maker. Maybe at some point we'll choose to buy a cookbook, but for now, we're using the recipes that are available for free!
Disclosure:
This post contains one Amazon Associates affiliate link (the cookbook title).