My husband gave me an ice cream maker for Christmas! I'd always wanted one, and I was very happy to find a
Cuisinart 1-1/2-Quart Automatic Ice Cream Maker
under the Christmas tree.
So far we've tried two recipes, and the third is still in progress. All three of these recipes are egg-less, so I guess they're considered Philadelphia-style ice cream.
The first recipe was the basic chocolate ice cream recipe from the booklet that accompanied the machine. This recipe uses 2 cups heavy cream and 1 cup milk for the liquid, plus melted semisweet chocolate. It's extremely rich and creamy, and it reminds me of chocolate mousse, only not as fluffy.
After that, I was out of heavy cream, so I tried the basic vanilla ice cream recipe with the substitution of reduced-fat milk (2%) for all of the liquid. I swapped out the vanilla in favor of peppermint extract and added mini chocolate chips at the end. The resulting product is more slushy, less creamy ... sort of like a soft, fast-melting Italian ice. We liked this, but not as much as the chocolate. I think this would be refreshing in summer, and we'll definitely be keeping the recipe in mind for that.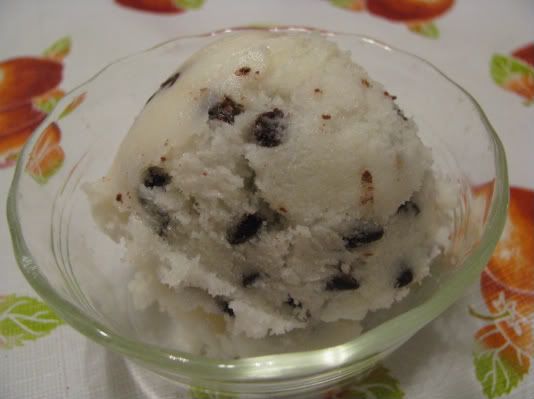 The experiment in progress is banana ice cream, using
this recipe from Alton Brown and Food Network
. (You can see the
"Good Eats" video at Hulu
. It includes some tips that aren't in the written recipe.) I mixed the ingredients last night, and allowed the mixture to chill overnight. So far I can share two observations:
My little blender can't puree semi-frozen banana chunks. I mashed them with a potato masher, added some of the liquid ingredients, then pureed half-batches in the blender.


The recipe makes more volume than this ice cream maker can handle. The maximum for this machine is four cups of liquid (use more and, with the addition of air, the ice cream will overflow), and this recipe yielded 4-3/4 cups of liquid. While the idea of drinking the "extra" 3/4 cup of banana smoothie was very tempting, I decided to churn the ice cream in two small batches.
We just finished churning the first half-batch of banana ice cream, and it's delicious! It's rich and creamy, and it tastes like real bananas! I was planning to add mini chocolate chips and chopped walnuts to the other half-batch, but DH said it's perfect the way it is.
The next flavor we plan to try is coconut, probably using this recipe. I'll let you know how it goes! Do you have any great ice cream recipes?
Disclosure:
The link to the ice cream maker on the Amazon page is an affiliate link. You can also find product information on the
Cuisinart website
(not an affiliate link). At the time of this post, the machine is less expensive from Amazon than directly from the manufacturer.