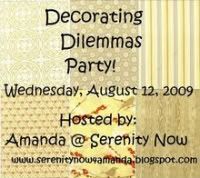 This has nothing to do with the Back to School Bash, but I didn't want to miss Amanda's first blog party! She's very good at repurposing, transforming, and embellishing, and I just know she and her crafty/decorating friends are going to have a good suggestion for my decorating dilemma.

Home decor is so not my area of expertise. We decorate in neutral colors. When we shop for furniture, we shop exhaustively and try to invest in something that will last a lifetime. Think traditional.

But here's the dilemma:
This is the only lamp, and the only place for a lamp, in the bedroom. For that reason, we need more than a small nightstand lamp. What you see here is a mismatched lamp and shade combination, which we put together when the old lamp broke.
We've shopped everywhere for a new lamp, but the ones we like are in the $200 price range. I really don't want to spend that much to replace a lamp that still works, so I'm looking for frugal alternatives to make it look better. What do you think?
It's not too late to join Amanda's Decorating Dilemmas Party. Click the image at the top of this post to find other participants or to link up your own post!