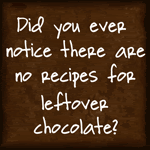 My husband and I agree about nearly everything, but we can't agree on the best brownie recipe. I like the chewiest, fudgiest brownies I can make, and he likes a cake-like brownie. For Father's Day, of course, I made the cakiest brownie recipe I have.
For some reason, though, it was not very cake-like this time. And the frosting turned out more like a glaze: it was good, but not what we had in mind. If you have a great recipe for cake-like brownies, please share! In the meantime, I'll share my middle-of-the-road brownie recipe.
Cocoa Brownies
1 cup sugar
1/2 cup butter, softened
1 tsp. vanilla
2 eggs
2/3 cup all-purpose flour
1/2 cup cocoa
1/2 cup chopped walnuts
1/2 tsp. baking powder
1/2 tsp. salt
Heat oven to 350F. Mix sugar, butter, vanilla, and eggs. Stir in remaining ingredients. Spread in greased square pan, 8x8 inches.
Bake until wooden pick inserted in center comes out clean, 25 to 30 minutes. Hide from family until cool. :)
BTW, check out Stephanie's recipe for
Fudge Topped Shortbread
. I just stumbled across it, and it looks absolutely delicious.
For more chocolate recipes, see Lisa at
Stop and Smell the Chocolates
.