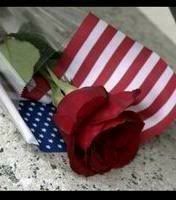 "I have never been able to think of the day as one of mourning; I have never quite been able to feel that half-masted flags were appropriate on Decoration Day. I have rather felt that the flag should be at the peak, because those whose dying we commemorate rejoiced in seeing it where their valor placed it. We honor them in a joyous, thankful, triumphant commemoration of what they did. We mourn for them as comrades who have departed, but we feel the glory of their dying and the glory of their achievement covers all our great country, and has set them in an imperishable roll of honor."
~Benjamin Harrison, 23rd President of the United States, 1891
Let's never forget that Memorial Day is not about the picnics, the sales, the beginning of summer, or the day off from work.
Read the full text of the above-quoted speech
here
, and read one veteran's response to it
here
. I also encourage you to take a few moments to visit the official website for
National Military Appreciation Month
and choose from their list of a dozen ways to support our military. Most of the ideas will cost you nothing more than a few minutes of your time.
Heavenly Father,
As we remember those who have made the ultimate sacrifice for our freedom, we think of how they have followed in the footsteps of your son, our Savior, Jesus Christ. Please hold our service men and women in your strong arms. Cover them with your sheltering grace and presence as they stand in the gap for our protection.
We also remember the families of our troops and ask for your unique blessings to fill their homes and your peace, provision, and strength to fill their lives.
May the members of our armed forces be filled with courage to face each day and may they trust in the Lord's mighty power to accomplish each task. Let our military brothers and sisters feel our love and support.

In the name of Jesus. Amen. (source)